Charleston Gazette Article on Attempt to Lower Social Studies Standards in WV
WV is pushing to condense the teaching of high school history to one course. A teacher calls the move 'dangerous for democracy'
By Ryan Quinn Staff writer Jan. 11, 2020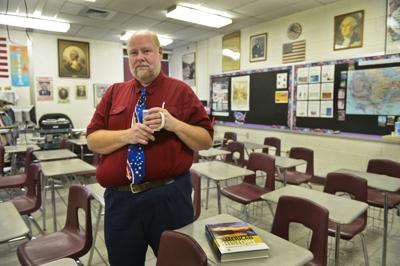 Within the past few weeks, the United States and Iran have traded missile attacks, the House of Representatives impeached President Donald Trump and a photo emerged of state correctional officers giving a Nazi salute.
Amid all this, the West Virginia Board of Education is proposing to allow county school systems to reduce social studies standards for high school students.
This could severely limit the time teachers can spend on key historical moments, like the Holocaust, plus eliminate the historical context needed for students to understand current events, like wars they may join after graduation.
The proposal was drafted with the help of 109 outside stakeholders, according to the West Virginia Department of Education. Only one was a high school social studies teacher.
Currently, counties can offer a single U.S. history course, but are required to also provide a two-course path.
The state school board's proposal, Policy 2510 — which the public can view and provide their opinions on until 4 p.m. Jan. 24 at wvde.state.wv.us/policies — would allow counties to eliminate the two-course option. It would also cut the requirement for a fourth social studies credit.
Among what's lost when U.S. history is made one course: standards requiring students to assess the results of America's Middle Eastern foreign policy; critique the Afghan and Iraq wars' effectiveness in the War on Terror; and outline the Patriot Act and debate whether its civil rights' infringements are necessary.
John Quesenberry, president of the West Virginia Council for the Social Studies and a teacher at Raleigh County's Woodrow Wilson High, said he thinks the proposal is "dangerous for democracy."
"We've got the Revolution, Civil War, Civil Rights Movement, Cold War, War on Terrorism," he said. "I mean, there are so many areas students are going to miss out on, mistakes that were made … inspirations they can draw on."
Joseph Strickler, a senior at South Charleston High, took the two-course path and said he didn't recall being taught anything past the Obama administration's killing of Osama Bin Laden.
"In one course, I feel like it would be very rushed for the teacher who has to teach it, and it would be a lot of stress, maybe," he said. "But I would have to see how it works out."
Also in the one-course plan, the Holocaust is demoted from its own standard to being an example in a more broad standard about World War II human rights abuses.
Teachers interviewed for this article differed on whether all examples in a given standard (the Holocaust, Japanese internment camps, stereotypes and propaganda are the examples in the human rights abuses standard) are supposed to be taught, or if they're optional.
The state Department of Education didn't say whether the listed examples were mandatory.
If the proposal passes and their county decides to only offer the one-course path, educators would have to further prioritize how to teach the history and place in the world of a country that has existed for over 200 years — not counting its 400-plus years of European settlement. Even the two-course path standards start with European settlement, not Native American settlement over 10,000 years ago.
"Going at such a rapid pace for all of U.S. history would just ... you would have no downtime to really stop and get in-depth with some complex things and topics that deserve quite a bit of time," Eric Starr, who teaches social studies at Tug Valley High, in Mingo County, said. "For instance, I'm getting ready to start teaching about the economic systems of the Cold War."
The state has less way of knowing the potential effects of its proposal, or how well the two-course path is working, since it eliminated statewide social studies standardized testing.
In 2013-14, the last school year of that testing, only 37 percent of West Virginia students were deemed at least proficient in social studies — the lowest rate since 2009-10.
Adena Barnette, a social studies teacher at Jackson County's Ripley High and a social studies council board member, said she knows not all her students are going to be political science majors or lawyers.
"But every kid that I encounter in my classes, each and every one of them, will be a citizen," Barnette said. "And the bulk of what they know about our history and citizenship, they'll learn in high school social studies classes."
Aside from the impact on U.S. history, the proposed changes would also let counties allow students to more easily avoid taking World Studies, which goes from prehistory to the 1800s.
Another normal-level social studies course, including psychology, sociology and others, could take its place.
"Trying to make World Studies optional, in the face of an ever-globalizing world, you're setting West Virginia students up for disaster," Starr said.
State school board President Dave Perry said he supports the proposed changes.
"I think the social studies is in keeping with the intent of the entire policy change, to allow flexibility to students to schedule more individual needs," he said.
He also said he thinks the Nazi photo is terrible, but doesn't think it's attributable to high school social studies credits.


Teachers try to 'cram' info
The same day Gov. Jim Justice announced the firings of the correctional officers in the Nazi photo, Delegate Mick Bates, D-Raleigh, tweeted that, "Based on today's news and reporting, now is not the time to decrease # social studies credits needed to graduate high school."
Earlier, Senate Majority Whip Ryan Weld, R-Brooke, told state schools Superintendent Steve Paine he found the proposal disheartening.
"I look at the picture and I think that could potentially be, as despicable as it is, an outcropping of students today aren't [being] taught enough about history," Weld said. "I don't think the students realize the full breadth of the horrors of the Nazi regime."
Starr teaches the WWI-to-present-day half of U.S. history, plus the single-course path.
"The one that goes in-depth, I only give a week with the Holocaust," Starr said of the half of the two-course path he teaches.
In his one-course version, he said he just wrapped up the Civil War. As for the Holocaust, he said he anticipates spending less than one lesson on it in one day, probably with just one more day to touch on it during a content refresher.
"I'll probably teach it in one big lesson that is WWII," he said. "I will probably just have one large PowerPoint — very large PowerPoint — that is WWII and I'll probably just give it a few slides with that and talk about the gravity of it and then move on."
The one-course path also contains no mention of Vietnam, a war comparable to the United States' current Middle Eastern conflicts.
The one-course path has a standard saying students should be able to "trace the events of the Cold War and confrontations between the United States and other world powers," but nothing specifically requiring teaching about the Vietnam or Korean wars.
West Virginia Studies, which eighth graders take, does mention Vietnam. It's included as an example, alongside the Civil Rights Movement and other things, of what should be taught in a broad standard requiring kids to "explain the economic, social, and political impact of twentieth century events on West Virginia."
Gracie Allen, a South Charleston High freshman, said she doesn't feel one year is enough time to learn U.S. history.
"Teachers — not all of them because there are some good ones — they try to cram all of this information in a really short time and then think we're learning it, but we're just remembering it for tests," Allen said. "Like, we're not learning anything. And if we had more time and it was more separated, then we would be able to actually learn instead of just remembering things and then forgetting them later."
And she said her West Virginia Studies course didn't teach much about U.S. history.
While the social studies standards require studying the U.S. Constitution, no grade, not even the high school two-course path, has standards specifically requiring studying impeachment.
Allen, at least, said she got to watch the impeachment proceedings in an elective class at her school.
Quesenberry, the teacher who leads the social studies council, said public high schools are one of the few places left where people are "forced to have to learn from and cooperate with people who may not always agree with us."
"I had a class one year where we had the head of the state Young Democrats, we had someone who worshipped Glenn Beck, another who was head of the school's teen Republicans and another was the niece of a Democratic Congressman," he said. "And we would discuss and argue laws, interpretations of the Constitution, but they were so respectful of each other's views. They didn't always change their mind, but they considered those and they were exposed to these different ideas and why someone may have thought the way they did."
But he said social studies is also about learning historical facts. He said current political debate seems to lack a shared set of facts.
"Then they can interpret them once they know that knowledge," he said of teaching these facts, "but there are some objective facts, and if they've got that strong base of knowledge, I think it's much less likely that you could be misled by someone else's bias."
Follow
Reach Ryan Quinn at
facebook.com/ryanedwinquinn, 304-348-1254 or follow @RyanEQuinn on Twitter.